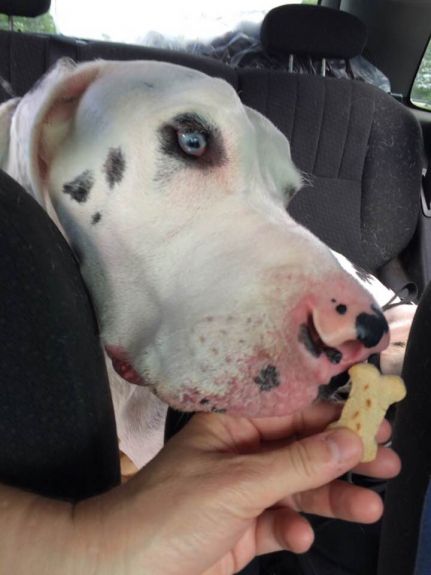 Quack finished his immunotherapy June 14th. He received ADXS31-164 three times. One dose every three week since the beginning of May. It wasn't easy but it wasn't terrible. Quack had to be at Cornell at 7:30 am each time and then the immunotherapy made him a little nauseous and he'd run a low fever. He'd have meds for the nausea and IV fluids for the fever. He'd spend the night at Cornell and they would monitor him very closely. We'd pick him up the next day and he'd be more than a bit tired. His oncologist and the students and techs and other staff there have been so kind to him. They would always call and email with updates while he is there. You can tell everyone loves him. When we went in each time folks would all call out "Quack!" It reminded me of Norm on Cheers. When Quack goes I pack a bag for him with his food and his blanket and a toy for him to hold. We joke around that he's just going to sleep over camp. I sent a detailed list of "Quack Facts" to for them:
He's not crate trained (sorry, he really stressed out in the crate when he was a puppy).
He does not like children, horses, cows, or people in hats and he especially hates UPS uniforms.
He's not used to being alone. He sleeps with humans in a human bed that he takes up most of.
He's only ever been away from home 2 times before this when he was neutered and when he had his leg amputated.
He likes to sleep completely under a blanket (especially his head). It turns him off like a parakeet. If he gets sad cover him all the way up.
He has a thing for licking the inside of people's ears.
He only knows three commands: "sit" "down" and "back-up" If you tell him to sit he will usually try to sit in someone lap.
He's named "Quack" because our first dog was named "Quinn" and our second dog was named "Jack" and my daughter thought it was funny to combine them and call him Quack.
He likes to put the top of his head against a person which is how he hugs you. (This is his highest honor.)
He is by nature pretty mellow and he sleeps a lot and always has.
He does not like dogs who have pointy ears (Huskies, German Shepherds etc.) but strangely he adores Corgis.
Today he had imaging to see what was up with the met(s) in his lung. Today we found out that he has only one met in his lung but it is four times as big as it was before he started immunotherapy. The increase in size may mean that it is growing or it may mean there is inflammation and his body is fighting it. The x-ray can't tell what type of cells are there. The good thing is he doesn't have more mets in his lungs. The bad thing is we don't really know what the larger met means. So that's where we are. If he is alive in 2 months we go back for more imaging. I'm hoping that his body is fighting the cancer like crazy.